Gatsby by the Sea
Dinner & Dance
August 9, Nahant Country Club
Imagine you are about to visit Jay Gatsby's summer estate in Newport for the party of the summer.


You might need to practice your dance steps beforehand so you will look fabulous on the dance floor. Fortunately there are classes scheduled in the afternoon! You can brush up on the basics of One Step, Fox Trot, Tango, Charleston, and Lindy Hop. Fabulous! What to wear? Something exquisite, gossamer silk, with beads to catch the light, for madame, of course, and for monsieur, a formal suit that is fabulously tailored.

Once you arrive at the estate, enjoy hors d'oeuvres while watching the sunset from the piazza--is that the elusive Mr. Gatsby over there by the rose garden? Stroll in the garden while sipping a cocktail (cash bar) before sitting down to an elegant dinner. Later you'll dance the night away to fabulous live music by the Nahant Dance Orchestra, which includes world renowned band leader Dan Levinson on clarinet and saxophone; Sue Fischer, drums; Dan Gabel, trombone; Jan Frenkel, piano; Justin Meyer, bass; Alex Owen, trumpet.

The musical program will begin with tunes of the 1910s to get our toes tapping during dinner, and continue with 1920s hot jazz to lift your spirits and call you to the dance floor. Suggested attire is formal evening wear of any era, with an emphasis on late 1910s through 1920s and 30s dress in keeping with the spirit of the evening. So jump in your Rolls Royce and head to the seaside!
---
Afternoon Classes
Dance Class: Dancing Your Way into the 1910s and 1920s, 1:00 - 2:30 pm
with Chris Ricciotti & Katy Bishop
A class for those would like to feel more confident moving, leading and following to the music and choreography of the 1910s and 1920s. Definitely recommended for anyone planning to attend the Friday evening Gatsby party! We'll go over solid basics on how to hold your partner, providing good frame while dancing, negotiating with your partner, practicing choreography and footwork of dances of this era, as well as how to mirror your dancing and styling to what you feel in the music. Though we'll provide plenty of instruction, our goal is to provide plenty of time for dancing to this music so everyone can feel comfortable and more confident in their dancing.
Dance Class: Dances with the Joy and Wild Abandon of the early Jazz Age, 3:15 - 4:30 pm
with Idy Coddington & Mike Sasso
Join Idy Codington to explore the basics and some of the flashy steps of the Charleston, learn to Peabody around the dance floor, and become a Lindyhopping Jitterbug.


Comfortable clothes and flexible-soled shoes are recommended for the classes.
---
We can help you put together a fabulous ensemble that's the bee's knees! Ladies and Gents are encouraged, but not required, to dress in fashions reminiscent of the era from the 1910s and 1920s. Follow THIS LINK to a guide with all our best tips, hints, and resources to make you look like you just stepped out of the pages of a fashion magazine.
Where is Nahant?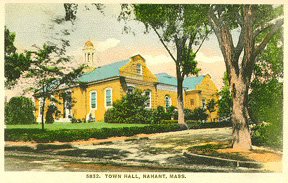 Our event is in one of America's oldest summer resort towns, a one square mile town that juts out into the Atlantic Ocean. It was once full of hotels and grand summer estates where anyone who was anyone went to escape the summer heat. The perfect place to spend a summer evening. The town is filled with enchanting period venues amidst refreshing ocean breezes. Don't miss this wonderful opportunity to experience a summer holiday as it might have been during the Victorian, Belle Epoque, Ragtime & Jazz ages.
Other events during the dance week, to register for other events visit this page for a full list of registration options.
1920s Silent Film with live organ acccompaniment by Jeff Rapsiss
Gatsby by the Sea Jazz Age Dinner & Dance with the Nahant Dance Orchestra featuring Dan Levinson and Dan Gabel
Evening in Vienna Victorian Ball with Spare Parts
Formal Afternoon Tea & Seaside Promenade
Costume and Dance Classes
Museum Tour & Shopping Excursion
---
New England Vintage Arts Society


P.O. Box 9, Nahant, Massachusetts 01908
e-mail:
phone: (781) 49-WALTZ (781-499-2589)
© 2019, New England Vintage Arts Society, All rights reserved
Last updated: 5Aug2019/csb
Gatsby by the Sea Registration
Registration for the dinner is now closed. Dance tickets will be available as long as there is space or until the morning of August 9th. There are a few options to choose from.
Dance only option includes all classes, dancing (8:00 pm), and sweets and sparkling cider at the intermission.

Choose your registration option below, email us if you have questions about the menu.
Gatsby by the Sea Schedule

| | | |
| --- | --- | --- |
| 1:00 to 4:00pm | | Dance Classes |
| 6:30pm | | Arrivals & Cocktails |
| 7:00pm | | Dinner |
| 8:00 to 11:00pm | | Dancing |
---

Support the Dance Week
If you would like to help keep the Dance Week accessible to everyone, please consider giving to our support fund.
We strive to keep the registration fees as low as possible so that everyone can attend; every little bit helps us open the world of the past to more people now, and in the future. Your gift will help us achieve that goal.