Gatsby by the Sea
August 9, Nahant Country Club
part of the Nahant Vintage Dance Week
Imagine you are about to visit Jay Gatsby's summer estate in Newport for the party of the summer. You might need to practice your dance steps beforehand so you will look fabulous on the dance floor. Fortunately there are classes scheduled in the afternoon! You can brush up on the basics of One Step, Fox Trot, Two Step and Charleston. Fabulous! What to wear? Something exquisite for madame, of course, and for monsieur, a formal suit that is fabulously tailored.

Once you arrive at the estate, enjoy hors d'oeuvres while watching the sunset from the piazza, or stroll in the garden while sipping a cocktail (cash bar) before sitting down to a suptuous dinner. Later you'll dance the night away to fabulous live music by the Nahant Dance Orchestra, which includes world renowned band leader Dan Levinson on clarinet and saxophone; Sue Fischer, drums; Dan Gabel, trombone; Jan Frenkel, piano; Justin Meyer, bass; Paul Monat, trumpet.

The musical program will begin with tunes of the 1910s to get our toes tapping during dinner, and continue with 1920s hot jazz to lift your spirits and call you to the dance floor. Suggested attire is formal evening wear of any era, with an emphasis on turn of the century through 1920s dress in keeping with the spirit of the evening. So jump in your Rolls Royce and head to the seaside!
---
What to wear?
The costume page will be ready shortly
We can help you put together a fabulous ensemble that's the bee's knees! Ladies and Gents are encouraged, but not required, to dress in fashions reminiscent of the era from the 1910s and 1920s. We will be putting together a guide where we will share all our best tips, hints, and resources to make you look like you just stepped out of the pages of a fashion magazine.
Where is Nahant?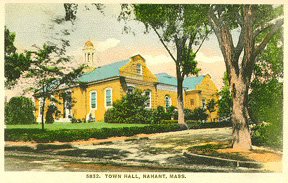 Our event is in one of America's oldest summer resort towns, a one square mile town that juts out into the Atlantic Ocean. It was once full of hotels and grand summer estates where anyone who was anyone went to escape the summer heat. The perfect place to spend a summer evening. The town is filled with enchanting period venues amidst refreshing ocean breezes. Don't miss this wonderful opportunity to experience a summer holiday as it might have been during the Victorian, Belle Epoque, Ragtime & Jazz ages.
Other events during the dance week:
1920s Silent Film with live organ acccompaniment by Jeff Rapsiss
Gatsby by the Sea Jazz Age Dinner & Dance with the Nahant Dance Orchestra featuring Dan Levinson and Dan Gabel
Evening in Vienna Victorian Ball with Spare Parts
Formal Afternoon Tea & Seaside Promenade
Costume and Dance Classes
Museum Tour & Shopping Excursion
---
New England Vintage Arts Society


P.O. Box 9, Nahant, Massachusetts 01908
e-mail:
phone: (781) 49-WALTZ (781-499-2589)
© 2019, New England Vintage Arts Society, All rights reserved
Last updated: 14jun2019/csb
Dance Week Registration now open, you can sign up for one day or all four days, There are many options to choose from.
Follow the link above to register for the weekend. If you have already paid a deposit enter promo codes as needed:

25DEPOSIT for $25 deposit paid
50DEPOSIT for $50 deposit paid
100DEPOSIT for $100 deposit paid
150DEPOSIT for $150 deposit paid
200DEPOSIT for $200 deposit paid
Note: the details for the optional outings Monday August 12 will be available soon. Send us a message, email is best, if you have any questions or special requests.
Thursday: Silent Film
Friday: Gatsby by the Sea Jazz Age Dinner & Dance
Saturday: Evening in Vienna Victorian Ball
Sunday:Concert, Afternoon Tea & Seaside Promenade
Monday: Fabric Shopping & Museum Tour
Gatsby by the Sea Schedule

| | | |
| --- | --- | --- |
| 1:00 to 4:00pm | | Dance Classes |
| 6:30pm | | Arrivals & Cocktails |
| 7:00pm | | Dinner |
| 8:00 to 11:00pm | | Dancing |
---

Support the Dance Week
If you would like to help keep the Dance Week accessible to everyone, please consider giving to our support fund.
We strive to keep the registration fees as low as possible so that everyone can attend; every little bit helps us open the world of the past to more people now, and in the future. Your gift will help us achieve that goal.